Testimonies
Here is a selection of testimonies submitted to us via e-mail or Facebook, and originally published on our Hungarian-language website. These testimonies were selected and, unless stated otherwise, translated into English by Gwen Jones. To submit a story, please write to bertalan@ceu.edu.
2014. June 12., Thursday
VI. Szófia Street 23
-
Klára Donát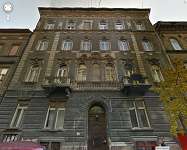 I was born in 1936, and we lived at Király Street 82. In the spring of 1944, with my younger brother and expectant mother, we moved from there into a second-floor apartment at Szófia Street 23. My mother's older sister also moved in here with her son who was born in 1932, and so did my maternal grandparents from Krisztina Boulevard, as well as my paternal grandparents from Szív Street. I don't remember us being hungry. During that period, the residents of the house were rather withdrawn, and although there would have been children the same age as me, we didn't make friends and only after the war did we become more open. My father and mother's brother were not with us, they were on forced labor service. (Luckily, my father returned, but my uncle did not, and was declared missing.)
Read more...
On September 16, 1944, my younger brother was born in the Maros Street hospital, and this date is important because that's how I can work out he was born before the day when they lined up the Jewish residents of the house in the courtyard and took them away, including my two grandfathers, Gyula Donát and Márk Márkus, and my aunt, Mrs. Béla Gyepes, born Katalin Márkus. My grandfathers were first taken to Theresienstadt, and from there to Buchenwald where they were last seen, and where they both died. (My maternal grandfather, Márk Márkus, had a clockmaker's shop at Alagút Street 1, and which was later bombed. He may have continued to work as a clockmaker in the concentration camp, but didn't want to be separated from my other grandfather.) My aunt was taken to Dachau where she interpreted and worked, and had enough energy to keep a diary, which she wrote in a notebook with squared pages. Just before they met for the last time before her death in 1998, her son (who had defected to America in 1956), took this notebook, other notes and photographs with him.
With the help of my father's friend, all of us (my mother, younger brother, grandmothers, cousin and me) obtained a protection letter, and this is how we ended up at the Carmelite convent (I don't know where this would have been), where they hid us. After someone denounced the convent, the Arrow Cross occupied the building and took us away to the Arrow Cross house in Újpest, from where Arrow Cross men escorted us on foot to the ghetto. I have one childhood memory of this: someone gave me a jar of apricot jam in the convent, and I carried it with me while walking to the ghetto, but an Arrow Cross man knocked it out of my hand with his rifle butt. In the ghetto, we ended up on Wesselényi Street, my cousin and I were in a "children's home," while my mother and younger brother were a few houses down the street in the "mothers' home." I remember that there were decent Arrow Cross men and German soldiers too: there was one who allowed me to leave so I could go to the railed entrance gate of the house where my mother and younger brother were, she would cry from inside the gate, I would cry from the outside, but at least we could see each other a little. Later we were reunited, and this is how an acquaintance who'd been looking for us found us after liberation. And then we returned to Szófia Street. My cousin ended up in an orphan's home for a while, and then came to us, and later his mother, my aunt, returned from Dachau.
There are lots of things I don't remember. As a child, the adults didn't share what was happening with us, although later, I asked lots of questions. It wasn't taboo to talk about this in our family, but we didn't bring it up often, and particularly didn't go into detail. We read my aunt's diary many times, and we always amazed at how she'd been able to write about how the train stopped in Austria, and they were allowed to leave the wagon for a short time, and how beautiful the scenery was. According to my mother, it was optimism that brought my aunt back. My mother was also the hopeful type too, she always appeared very strong and never doubted that my father would return from forced labor service.
I remember the yellow star above the entrance to Szófia Street 23, and also that my mother safeguarded the yellow stars from our clothing in a cupboard, below the undergarments, right up until we were adults.
Klára Donát
(Transcribed by Bernadett Piskolti)
VI. Szófia Street 23
-
György Érdi-Krausz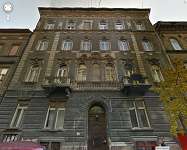 I have lived at Szófia Street 23 since I was born, and am the oldest resident of the house. At the time when the house was designated as a yellow-star house, I was 18 months old. I'll tell everything I know, from what I heard. My family had lived here since 1935, and my father, György Krausz a converted Jew. Together with his siblings, he converted to Christianity in the 1910s on the request of his father, Simon Krausz. My mother, Gabriella Temesi, was a Christian, and my older brother and I were christened at birth. My father was a navigation engineer and, despite the Jewish laws, he attended his workplace, the Hungarian Royal Army Exploratory Flying Institute, and was also exempt from wearing the yellow star.
Read more...
Our three-story house was a yellow-star house, where Christians lived on the ground and third floors of the building, and Jews on the first and second floors. This was possible before June 1944, although there were families who moved here from neighboring streets. I don't know how many families were forced to live in one apartment in 1944. The concierge lived in a small ground-floor apartment in the courtyard, he was a decent man and after the curfew was introduced, for example, he would go shopping for the Jewish residents of the house.
After March 1944, my family fled the bombings and moved to our weekend house in Göd, but with the Russians approaching, we moved back to Budapest, for which we needed a residence permit which I have kept to this day. During the siege, the men of the house kept guard in twos, in two-hour shifts in the little booth next to the entrance, and which is still standing today. This is where they kept the cow bell they used to alert the residents if there was an air raid, and everyone had to go down into the shelter.
Two men from the house were taken onto forced labor service, one of them never returned and was declared missing. His widow and son (who defected in 1956) lived here later too.
Once, the Arrow Cross lined up the Jews in the courtyard, and one of the residents (József Székhelyi's grandmother) summoned her son Ferenc Székhelyi, who was working with false papers in the Defense Ministry records office. He turned up soon after with a military officer and ordered the Arrow Cross to leave, because the house was under the protection of the Defense Ministry. Unfortunately, this was only a partial success: although the mothers with young children, the elderly and an infirm woman could stay, they took everyone else away. 6-8 people were in the death camps, and as far as I know, luckily, all of them returned, but I also know, from what I heard, what they went through. My family would cite two memories of this: Rózsi Hahn returned home bald, and second, my mother met Uncle Altmann in the stairwell just as he was returning from the concentration camp. He was shaking, afraid that tragedy had befallen his family, he didn't dare go upstairs and was just standing on the landing.
I don't know how often the residents were harassed, although my family would remember one instance: at Christmas in 1944, when my father and maternal grandmother's younger brother (who had fled from Vojvodina) were on guard, the Arrow Cross banged on the door, and in fear, my father and uncle didn't dare step out of the booth, because they knew that the Arrow Cross would often shoot the gate if they couldn't get in, and finally the Arrow Cross men left.
In order to recall and clarify the memories, I sought out József Székhelyi, whose grandmother and two aunts lived here (he himself only moved in in the 1950s).
György Érdi-Krausz
(Transcribed by Bernadett Piskolti.)
2014. June 11., Wednesday
XIII. Szent István Park 3
-
Ágnes Szántó
In the summer of 1944, I was four years old. My father was on forced labor service, and my mother and I moved in with my paternal grandfather and uncle, to the yellow-star house at Szent István Park 3. We were lucky in that there was only eight of us in the two-room apartment: my grandfather (Sámuel Szántó), one of his sons (Ferenc) and his wife, and the wife's two sisters and one brother. (The youngest Szántó son, Lajos, was also on forced labor service, from where he disappeared for reasons that still have not been discovered.)
Read more...
My memories come partly from images I remember and which pop up from time to time, and partly from the very rare instances when events were talked about, but the two do not fit together at all.
I have a faint image of my grandfather who believed that we were eating kosher. I know from conversations that even during the times we were allowed out under the curfew, he was unwilling to take me down for some fresh air in the park. Even until his death, he was unable to forgive me for not taking the name Malvin, after his late wife, my paternal grandmother. And so a physician friend of my mother's, who later became a pediatrician, took me too when she took her own baby out for a walk, and my mother used this brief period of time to go shopping and sort things out.
I remember the arguments around the table. I know from what I heard that my mother once loaned the family's typewriter to forge the date on a leave of absence letter, and which caused serious conflict. At every ring of the doorbell everyone flew into a state of panic and fear and believed, which I learned later, that they had come for my mother, or all of us. This didn't happen, but I don't think it unlikely that this is why we had to leave the yellow-star house: we should not put the law-abiding family in danger.
I don't remember how we ended up at Szent István Park and how or where we left. I do know that I was taken to my aunt's "Aryan husband" in the eastern end of the country. I was quickly removed from there on the community supervisor's orders, since I was the only Jew in the village and they didn't want any trouble on account of me being there. My ups and downs without family started here, but that's no longer anything to do with Szent István Park.
2014. June 10., Tuesday
XIV. Kövér Lajos Street 64
-
No name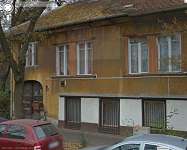 The house at Kövér Lajos Street 64 in the 14th district was owned by Andor Rosta, who lived in the house--which is still standing today--in an apartment with many rooms. The family was: Andor Rosta and his wife Rózsi and their five children: Gyuri, Pali, Magdi, Edit and Miki. There was also a slightly higher floor above the front gate, with a smaller apartment, which was rented by the Rehberger family, a married couple and their two children, Vera and Tomi.
Read more...
Andor Rosta was a master carpenter and his workshop was in this house, and which operated under the name "Rosandó Furniture." He made painted furniture, which was a novelty at the time.
Andor Rosta was my father's older brother, and the eldest of the seven siblings. Of the seven, six lived in Zugló [the 14th district]. There was the Gertsli family, Teréz and Nándi and their three children: Misi, Karcsi and Jancsi. Their father drove a horse and cart. Mrs. Izidor Lőwy (Ida) lived together with the widow Mrs. Springer (Pepi) in an apartment with their children, Ida's daughter Zsuzsi and Pepi's son Laci. Mrs. Miklós Lebovits, Berta, didn't have any children. The seventh sibling, Mrs. Sári Hauer lived in Pesterzsébet with her husband Márk and their three children, Laci, Rózsia and Sanyi.
In 1937, my father, Jenő Rosta, and my mother, Ilona Burger, bought a single-apartment family house in the 14th district on King Nagy Lajos Road 146. My younger brother András was born in that year. We had a clothing business on Bosnyák Square, opposite the market.
In 1942, my father was called up for forced labor service in Ukraine, and was taken to Vinnytsia. In 1944, he was brought back with the other surviving forced laborers to the area around Sopron, and from there deported to Mauthausen.
In June 1944, we had to leave our apartment and move into a "yellow-star house." The Szűcs couple moved into our house after their house was bombed.
My uncle Andor's house was designated as a yellow-star house, and so family members living in Zugló moved in there. We could only take the most necessary items with us.
During the day, my mother worked in the area, perhaps on Szugló Street, in an ironworks called Sima, which had been commandeered for military purposes.
One episode from that period: shots were fired somewhere in the area. Men with Arrow Cross armbands appeared immediately, and drove us and the residents of nearby yellow-star houses out onto the street, and made us stand with our arms raised at the fence opposite (my seven-year-old brother was standing next to me), and yelled at us that if the shooter didn't come forward within ten minutes, they'd kill all of us. I don't know what happened but the execution didn't take place, and we could return to the yellow-star house.
On October 15, 1944, when Szálasi took power, there were rumors spreading that all the Jews from the yellow-star houses would be taken to the Tattersaal and shot.
That's when Dr. Markovits, a distant relative of my father's who lived nearby, came and took us to his house. He was "Aryanized" due to his wife, and the anti-Jewish decrees didn't apply to him. There were also rumors that the Russians would soon arrive, and if we could survive a couple of days, we would escape. Dr. Markovits hid us under the stairs in his basement for a few days. However, our hopes didn't come true, and we couldn't stay there any longer, and so we returned to the yellow-star house. Soon, we had to present ourselves at the Kisok sports fields on Queen Erzsébet Road, from where we were led on foot to the brick factory on Bécsi Road.
The great secret of the yellow-star house was that there was a small space with a concealed door, which opened off from the air-raid shelter. Those of us who went down into the shelter during air raids didn't know about this hiding place. We only learned after the liberation that my uncle, Miklós Lebovits and uncle Andor's youngest son Miki had been hiding there in this little "hole" for the duration of the Arrow Cross period. Under the cover of night Miki's mother Rózsa supplied them with food, which is when they could come out for a short spell of fresh air.
And this is how my yellow-star house story ends.
Concerning the rest: during selection at the brick factory (you to the right, you to the left), my mother, younger brother and I were sent to one side (one of my mother's siblings had acquired some protection document or other), and all the other yellow-star house residents were sent to the other. The latter were transported to Auschwitz, as we learned later. Together with the others from the group, we were made to walk back to Pest and put in the basements of two houses on Abonyi Street, and the Saint Domonkos church on Thököly Road. We heard afterwards that the people in the other basement and the church were all shot. A few days later, we were taken to a protected house on Pannónia Street where we lived with my mother's relatives. Finally, at the end of January, we were taken to the ghetto, where we sat on benches in the basement of a house on Wesselényi Street until January 19, 1945. That's when a Soviet soldier came down into the basement, and we learned from him that we had been liberated. Of the relatives mentioned above, two of my cousins, Rózsi and Zsuzsi, returned from Auschwitz. Rózsi was very ill and later died, while Zsuzsi got married, immediately after returning, to her fiancé who had also survived deportation, and they left for Uruguay with her husband's relatives. They had two children. Zsuzsi went blind and committed suicide together with her husband.
My father was liberated in Mauthausen and returned home in May 1945.
XIII. Csata Street 14/a
-
Péter and Gábor Popper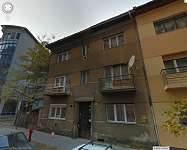 Since our birth on March 4, 1942, we twins Péter and Gábor have been living with our mother at Tar Street 10 in Budapest's 13th district (which was the 6th district in 1944). Our father was called up to forced labor service in November 1942, and taken to the Russian front where he was later taken prisoner of war. (Since the early 1990s, he has been receiving a small monthly pension from the Hungarian state.) During this period, our paternal grandmother, Mrs. Vilmos Popper (widowed) was the owner of the Popper Fashion Department Store, which was located on the Róbert Károly Boulevard side of Tar Street.
Read more...
As a consequence of the June 1944 mayoral decree, we had to move into the designated yellow-star house nearby, at Csata Street 14/a. Our grandmother, who also lived at Tar Street 10, had to move into a yellow-star house on Báthory Street, where her two daughters and one brother had moved in earlier.
According to our 97-year-old mother's recollection, on November 10, 1944, the police took her away from our apartment in the yellow-star house. They were taken from the police station with other Jews to the brick factory on Bécsi Road, from where she escaped that night, and was hidden by Lajos Winkler and his wife, the owners of the Winkler Cinema, until liberation on January 18, 1945.
According to our mother, as two-year-old children, we were crying and asked the "Uncle Policeman" not to take our mother away. When they took her away and we stayed behind in the empty apartment, the police told her that the Red Cross would come for us and take us into care. As we know now, children under Red Cross care were shot into the Danube by the Arrow Cross. Before the Red Cross could come for us, the whole district—where almost everyone knew our family—learned that the police had taken young Mrs. Popper away. Upon hearing the news Lizike, the younger sister of my father's childhood friend, the barber László Harper, came to get us from Tar Street 10 and took us to our grandmother in the yellow-star house on Báthory Street. We ended up in the large ghetto at the beginning of December with our grandmother and her siblings. We only survived total starvation because an "Aryan" family who moved out of their apartment in the ghetto left us preserves in the pantry because they felt sorry for us. On January 18, 1945, the ghetto was liberated and, wasted away to skin and bone, we ended up back at our mother's place on Tar Street 10, to where she had already returned. We couldn't recognize our mother for three months, and wanted to go back to our grandmother's and her sister, Aunt Fáni. Our mother said that we had nightmares every night and woke up crying that we were hungry, even though since liberation we had had food to eat.
2014. June 06., Friday
VII. Sajó Street 2
-
Ferenc Kovács
This house provided compulsory shelter for my grandparents and their families, Ignác Roóz, Mrs. Ignác Roóz, and their children Erika and Melinda, but sadly not their son Jancsi who, at the age of 17, had been machine-gunned down by our Hungarian compatriots in Kiskunhalas. Masses of people were deported from the house, including my mother; enough about the Jews saved from deportation. The small, basic apartment with one room and a kitchen was shared by Imre Stark and his wife, Auntie Janka, with our family, many of our relatives arrived here too.
2014. June 05., Thursday
V. Balassi Bálint Street 25
-
István Bársony Jnr. and Ildikó Bársony
My father's (Istvan B.) family lived from the early 1940s at Balassi Bálint 25 right up until the early 2000s, in a fifth-floor apartment facing the street.
When it became a yellow-star house in 1944, my father was two years old. My grandfather, Istvan B. Snr., whom I never got to know, was constantly ordered on forced labor service. So was my great-grandfather, who was also living with them. My grandmother (Mrs. Istvan B., born Veronika T.) stayed at home with my father and her younger sister, and my great-grandmother (Emilia F.) went into hiding with friends during the Arrow Cross era.
Read more...
After the Arrow Cross takeover of power, they managed to get into a protected house on Pozsonyi Road for a while, but escaped from there to their apartment, where they felt safer.
When the Arrow Cross carried out raids, they hid in the alcove in the WC. The concierge and an army officer living in the house gave them lots of help to hide.
Finally, on one occasion, they went through the house with a list and when they found my grandmother they took her away, which must have been in the late fall of 1944. She pinched my father to make him cry, because they didn't dare take a small baby away…
The residents, mostly women, who were taken from the house, were "escorted" to the Óbuda brick factory, which was one of the holding camps in Budapest for people taken from the yellow-star houses. From there, they were force marched by the gendarmerie to the border. My grandmother witnessed much cruelty. (One woman was shot because she couldn't take the pace in her high-heeled shoes she was wearing when they took them away.)
If I remember correctly, at Piliscsaba, and taking advantage of the situation, my grandmother pulled the woman from next door close to her, and they hid underneath a market-woman's basket on the market square. This peasant woman helped them by providing accommodation for them that night, and the next day, she gave them traditional clothing to wear as they escaped back to Pest.
And it worked. After the war, they kept in touch with the people who had helped them.
After they returned to the apartment, the Arrow Cross were no longer searching for them. It was the Hungarian Arrow Cross who took them away and Hungarian gendarmes who guarded and then led them on the death march, and they only heard German spoken by the Schwab [ethnic German] woman who helped them. When they returned home a few days later, they discovered that in the meantime the neighbors had taken many things from their apartment… but ultimately, they survived the siege.
My grandfather and great-grandfather also survived forced labor service. My grandfather was liberated by the Russians and returned home from the front. He didn't dare to go home straight away, because he was afraid that everyone had been taken away, so he went to a friend's place where my great-grandfather was in hiding, and who was delighted to inform him that everyone had survived the Arrow Cross terror and the siege. Incredibly, most of my family escaped, and they told me that the family of my grandmother's cousin were only killed when they were shot into the Danube in Vojvodina by the Hungarian soldiers entering the territory.
After the war, my father and his family moved to Sopron for a few years, but later returned to the Balassi Bálint Street apartment where they stayed for many decades. My grandmother lived until a ripe old age and spent the rest of her life here with my aunt and her family.
I visited them a lot as a child, and have lovely memories about the house and their home in what my family called the Balassi…
Thanks to the many people who helped, and to my grandmother's bravery, because of which I'm now able to tell this story, and also to the archives, so that the story can be preserved for the future and serve as an education for those who only know the story of this era from what they were told! Let us remember the house, their stories and those of the people who shared the same fate! We children and grandchildren will not forget!
VI. Jókai Street 1
-
Haviva Arányi
Summer 1944. Just before evening. I am standing in the courtyard of the yellow-star house on Jókai Street. I am on air raid duty, and at almost 16, am old enough to be trusted with such a task. I have to listen to the concierge's radio and, if an air raid is announced, alert the residents with a gong. I can hear a child crying from the first-floor corridor, and on the second, two elderly ladies are talking. Someone is busy in the kitchen, from the sound of it, putting away saucepans. Small boys are running around on the third floor. The voices of the residents who moved and were moved into the house—the elderly, women, children—reach me. There are no Jewish men among the residents. They are in a labor camp, if they're still alive…
Read more...
It's a warmish summer evening. I feel calm, peaceful, almost happy, I'm in a good mood. What happened? What brought about this change? The day had passed just like all the others. Nothing special. No letters came, not from my Father, nor Jancsi, with whom I've been corresponding since April. We haven't even met yet, but I still look forward to his weekly letters.
Yet what happened? What changed?
I can hear music! This is where the calm comes from, the good ! Ever since we'd handed in our radio months ago, I hadn't heard music. And now from the window of one of the Christian residents, the music is pouring out towards me. Some classical work, but I don't recognize it. It doesn't matter. I not only hear the music, I feel it too. As if it were encompassing me, caressing me. This reassured me, and brought good feelings in summer 1944, in Budapest, in the yellow-star house, at the age of 16.
Haviva Arányi
Israel
2014. June 02., Monday
VII. István Road 7
-
Katalin Weiler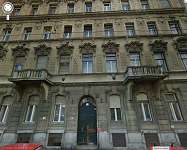 Recollections of Tamás Weiler.
From my birth in 1935, I lived at István Road 7, and which is where my late sister Éva returned from the hospital after she was born in 1940, and my other younger sister Kati too, who was born in 1953. This is where my son was born, and Kati's two children too. Our apartment is on the second floor facing the front gate, and had two rooms behind the three left-hand side windows, a windowless maid's room, and another room looking onto the internal corridor. It was a tenement block and I remember that the owner and their relatives lived in the first-floor apartment facing the street.
Read more...
Our room facing the courtyard was a leather goods workshop where my father and mother (who was a seamstress) worked with their assistants. When I was born, this room was separated off and turned into a separate flat, our first home.
When my father was called up for forced labor service, my mother was left alone with the two children and the workshop. It was decided that I would move in with my grandparents and my aunt who was living with them, on what was then Gróf Tisza István Street in the fifth district. I was transferred from the school on Bethlen Square to the one on Szent István Square, which is where I completed classes 2 and 3. I remember that when I'd finished the 3rd class, that was when the yellow star was introduced. We weren't allowed into the school any more, and together with my grandparents and 23-year-old aunt Kató Weisz, we moved into the "yellow-star house" at István Road 7.
Christian and Jewish children played together an awful lot in the house. Once, my friend Pufi had an accident in the attic when he cut his nose on the corner of a windowpane. He couldn't go to the doctor. We always played in a group next to the carpet dusting frame. My two-year-old sister danced and sang, as she later did in the ghetto too.
Once I fainted in the cellar and I remember they slapped me so I'd come round. Jews had a separate place marked out for them in the cellar, and when I fainted my mother brought me forward into the airier part, despite the house commander's protests.
(I could keep track of this Arrow Cross house commander's nightly return home, blind drunk, every night for 20 years, and as my mother would never fail to say when she heard him, "let him die on the spot!" – Katalin Weiler.)
Among the non-Jewish residents there were some humane individuals who helped, they helped with shopping since the Jews were under a curfew.
One day, Arrow Cross men arrived in the house and drove women aged 19-25 down onto the ground floor. They took five young women away, among them my aunt Kató Weisz, who was killed in Bergen-Belsen.
My grandparents, mother, younger sister and I were liberated in the ghetto. When we returned to our apartment in February, as my mother was going up the front staircase, the Soviet soldiers were coming down the back staircase. The apartment hadn't been looted, everything was in order.
In 1948, my father returned from Archangelsk where he had been a prisoner of war, we'd received a postcard from him in the camp in 1945.
And then life went on in the house on István Road which became Landler Jenő Road, with the painful memories of "they never came back", forgetting, and not talking, wrapped in deep silence.
XIII. Pannónia Street 48
-
Eva Kolosvary-Stupler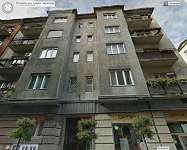 The house had just been built when my parents, Sándor Stein and his wife, Anna Herczog moved in with my 6-year-old sister Marika, just after my birth in 1937. With the exception of one elderly couple, all the residents were Jewish. We lived on the third floor at no. 2, in a lovely, light corner apartment with a child's bedroom, a living room where my parents slept, a dining room, a dark front room, kitchen and maid's room. I remember having a really lovely, peaceful life until the age of 6 or 7. My governess took me for a walk every day to Szent István park where I played in the sand.
Read more...
When I was in kindergarten, Marika taught me how to read and as children read aloud when they're happy to be able to read, I shouted out to my mother the "Long Live Szálasi" painted on the wall of our house. Of course, I was shocked when she put her hand over my mouth.
My father was taken from the house into forced labor service, and we escaped from here with my mother and sister to hide in the countryside. I have very strong ties to the house and, after the war, we moved back into our apartment, where we learned how many of our fellow tenants had never returned. It was also here that I married and one year later, after the suppression of the [1956] revolution, we left the country.
Now, at the age of 77, I weep when looking at a photograph of our house.
We plan the next trip home in September and then, like on every occasion, we go to the house and I look up at the third-floor windows and balcony.
Pages